Password protected XLS spreadsheet
Sometimes we come across Excel files that are password protected. It is not even possible to open a spreadsheet without the correct password.
One of the most popular solutions used for this purpose is LockXLS software. It allows to protect Excel workbooks and their distribution in the form of password protected executable file EXE without the possibility of editing workbook itself.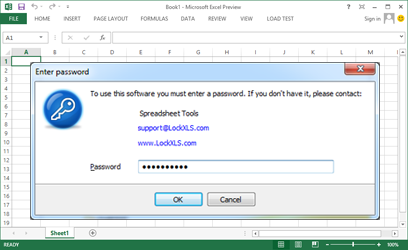 After starting a workbook protected in this way, it is necessary to enter a password that will allow you to use the workbook.
Solution
Our company offers a solution consisting in removing the password and restoring the original XLS workbook from the protected copy. The reconstructed workbook can be edited again.
Estimated time
Estimated time of service from 1-7 working days.
Pricing
Costs are determined individually after an initial analysis, taking into account additional work that may occur in the case of any non-standard solutions.